How Take A Test From A Training Module
To get started, first we need to navigate to the staff training page. Click on "Staff Training" in the left-side navigation.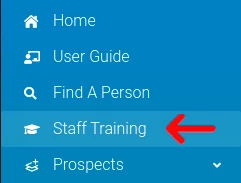 This will bring you to a page that displays all current training modules. To take a specific test, click on the cog icon found on the table row, and select "Take The Test".
In a real testing scenario, you will want to select "Read Training Module" first to familiarize yourself with the testing material.
Here you will be able to take the exam. Once you are finished, press "Submit Test". After submitting the test, you will be shown your score and which questions were answered correctly.