How To Transfer Secondary Residents
Are you trying to transfer all residents in a unit? Learn how to Transfer All Residents.
To get started, first we need to navigate to the resident actions page. Click on "Resident Search" in the left-side navigation.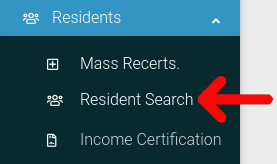 Find the resident you want to look at in the table. Then click on the cog icon located at the far right of the table.

Select "Resident Actions" from the dropdown menu.
This will bring you to the Resident Actions page. Once here, click on the "Unit Information" tab to open it. Once it is open, click on "Transfer Secondary Resident" button found at the top of the section.
This will bring you to the transfer page. On this page you can toggle between transferring to an occupied unit and an unoccupied unit. To toggle between unit types, click on the "Transfer Resident To Occupied Unit" button found at the top right of the form.
Transferring to Unoccupied Units
Transferring secondary residents into an unoccupied unit will create a new lease for the resident. You have the option to transfer all ledger entries and children as well.
Transferring to Occupied Units
When you transfer a secondary resident into an occupied unit, the secondary resident will be given the same lease and lease history as the units current primary resident.