How To Sign an Online Lease
To get started, first we need to navigate to the resident actions page. Click on "Resident Search" in the left-side navigation.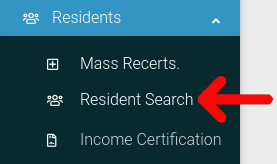 Find the resident you want to look at in the table. Then click on the cog icon located at the far right of the table.

Select "Resident Actions" from the dropdown menu.
This will bring you to the Resident Actions page. Once here, click on the "Digital Lease Information" tab to open it. Once it is open, find the digital lease you want to edit and click the options cog.
This will open up the options panel where you can:
- Preview a Lease
- Email Lease for Digital Signatures
- Sign Lease as Current Resident
- Edit the Lease
- Download Completed Lease Document (Only Available when Lease is Fully Signed)
- Delete the Lease
However, for now please click "Email Lease For Digital Signatures".
Once clicked the associated signers will be emailed a link to sign the lease.
Sign Lease as Signer
If you, for example, have a signer in the office that would like to sign the online lease from your computer. You can allow this by clicking the "Sign as" link as shown below.
From this page the signer is able to fill out important information and sign the lease. Once completed, please click "Submit Signatures" and the signature is saved.
Note that signatures must be completed by all associated signers before the online lease can be considered 'completed'.