How To Generate A Tic
To get started, first we need to navigate to the income certifications page. Click on "Income Certifications" in the left-side navigation.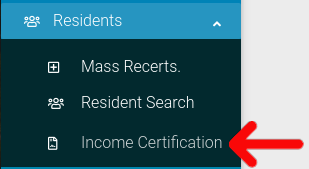 Find the resident whose TIC you want to generate in the table. Click on the table row to go to their income certification page.
You will now be on the Income Certification page. Before you can generate a TIC, you will need to fill out the form on the page requesting the lease data. Once you have filled that section out, press the button "Enable Ability to Generate TIC".
The button will now state "Generate TIC". Click on "Generate TIC" to choose the type of income certification you want generated.