How To Add Tic Data
To get started, first we need to navigate to the resident actions page. Click on "Resident Search" in the left-side navigation.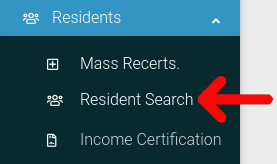 Find the resident you want to look at in the table. Then click on the cog icon located at the far right of the table.

Select "Resident Actions" from the dropdown menu.
On the resident actions page, click on the tab labeled "Income Certification" to open it. Once it is open, click on the "Edit Income Data" button located at the top of the section.
When you are on the income data page, you will see income data for all residents within that unit. First select the resident you want to add TIC data to by clicking on their name.
When you have selected your resident, locate the red plus button found in the bottom right corner of the page.
A new menu will appear, giving you the option to add the following:
Assets
Rental Assistance/Subsidy
Wage Information
Benefits Information
Other Income Information
Clicking on any of the options will bring you to a form where you can add the needed tic data.