How To Export Mass Denial Letters (Management)
To begin processing as management, click on the tab "Processing (M)" in the side navigation. This will take you to a table laying out all active applications.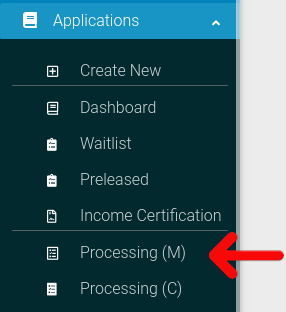 At the top right corner of the page, you will find the "Mass Denial Letter Print" button. Click on it to bring up the pop-up menu to begin processing applications.
To export multiple PDF's for application denials, you will need to fill out the date range of forms you want to export, as well as selecting which template you want to use for denials.
When you have filled out the fields, simply click "Generate Denial Letters" to create your needed PDF's.