Getting Started Processing Applications (Management)
Application processing in ExactEstate is streamlined and efficient. This page will detail how management can get started with processing an application.
Looking for processing compliance information? Learn about Compliance Processing.
To begin processing as management, click on the tab "Processing (M)" in the side navigation. This will take you to a table laying out all active applications.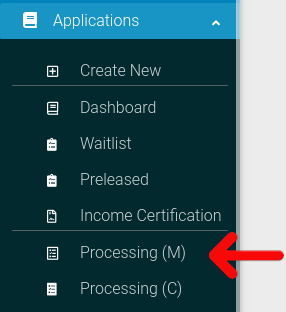 Find the application you want to process in the table. Once you've found your application, click on the row to navigate to the processing page.
The processing page is where management can make a decision on an application. This page will show the following:
Application Status
Applicant Details
All Co-Applicants
Requested unit information
Income Certification Data
From here you are able to approve, deny, or cancel an application. You can also submit tenant screenings for applicants or co-applicants from this page.